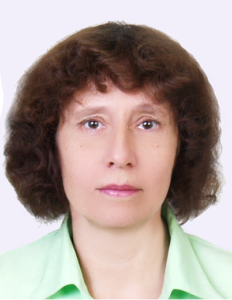 Associate Professor, Ph.D.
room 363
+38 (057)-702-14-65
The head of the cathedral circle in philosophy.
She is responsible in the department for the research work of students.
Education and Career:
In 1982 she graduated from the Kharkiv Music College with a degree in Music Theory.

In 1988 she graduated from Kharkiv National University. A.M. Gorky, specialty "Psychology".

In 1989 she began working at the Department of Philosophy HIRE as an assistant.

In 2001 she defended her thesis on "Features of personal tacit knowledge."

Since 2002 she has been working as an assistant professor in the department of philosophy.

In 2006 she received the title of associate professor of the Higher Attestation Commission of Ukraine.
Teaches courses: philosophy, logic, image of a modern specialist, philosophical problems of scientific knowledge (for graduate students).
Research interests: implicit, unconscious components of the cognitive process; implicit components of natural language.
She has over 50 publications, including sections of 4 monographs.