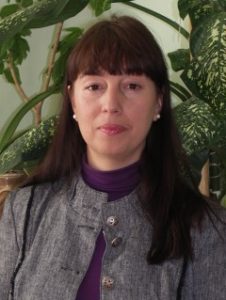 Associate Professor, Ph.D.
room 363, 455-Б
+38 (057)-702-14-65
Works at the NURE social and psychological services.
Education and Career:
In 1993 she graduated from the Sverdlovsk State Pedagogical Institute, (now – Ural State Pedagogical University), specializing in "speech therapy".

In 1997 graduated from Kharkiv State University, (now – V.N.Karazin Kharkiv National University), with a degree in psychology.

Since 1998 – assistant of the Department of Philosophy KNURE.

Since 1999, he has been working as a senior lecturer at the Department of Philosophy.
She teaches disciplines: "High School Pedagogy", "Image of a Modern Specialist", "Psychological and pedagogical problems of scientific and pedagogical activity".
The field of scientific interests is the image of a modern specialist, high school pedagogy and psychology, existential direction in psychological counseling and art therapy.
Publications:
has over 20 publications, including 5 methodical ones.