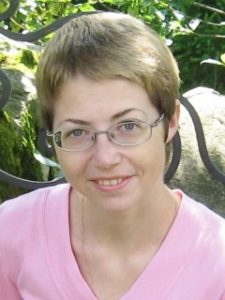 Associate Professor, Ph.D.
room 363, 455-Б
+38 (057)-702-14-65
Specialist in career guidance, certified consultant on "Magellano University" career guidance methods.
Education and career:
Degree in psychology, V.N. Karazin Kharkiv National University.

PhD in philosophy with the thesis on «Heuristic function of emotional experience (philosophical and methodological analysis)», 2006.

Associate professor of philosophy, 2014.

Consultant in practical psychology of the social and psychological service of Kharkiv

National University of Radio Electronics (KNURE) in 2007-2017.




Lecturer at the KNURE's Department of Philosophy since 1997.
Research Interests: Cognitive Psychology, Psychology of Emotions, Psychology of Creativity, Psychology of Time, Gnoseology, Philosophy of Education.
Author's courses: «Psychology of perception and processing of information», «Cognitive psychology», «Management psychology».