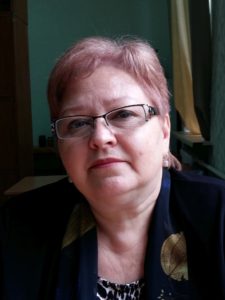 Professor, Ph.D.
room 363
+38 (057)-702-14-65
She is a member of Faculty council at the Faculty of computer engineering and control.
Education and Career:
She graduated from Faculty of Economics and graduate school at the department of social and political theory of Kharkov State University.

In 1987 she defended her thesis.

Since 1981, she has been working at KNURE at the Department of Political Science, then at the Department of Philosophy as an assistant, senior lecturer, assistant professor, and professor. 
Educational activity: she teaches disciplines – «Philosophy», «Political problems of modern society», «Global problems of modern society».
Research activities: the field of scientific interests is functioning of democracy and socio-political transformations in information society.
She has over 60 publications, including sections of 7 monographs.